About Us
Klein Distributors Inc. has been operating stores formerly owned by Agway Inc. since 1994 in New Jersey and since 2000 in Pennsylvania. KDI is a tightly held family run company, which tries to operate each store as a local entity. Each store, employee and customer group has its own personality and needs. With a totally "live" computer system (plus all those phone calls) all the knowledge and experience of any of our employees is available to everyone… We take great pride in the longevity of our core employees and their vast knowledge. If you call, visit or email our stores you will find our employees have a "can-do" attitude and will try to accommodate your needs pleasantly and efficiently. Whether you are buying a bag of food for one pet or pricing out a trailer load of salt or lime for a township, school or business, our people are happy to help you. Delivery of bagged goods is available from all our stores and the Mifflin Agway has several bulk feed trucks for large feed orders. We have locations in Mifflin PA, Columbus NJ, Englishtown NJ and Burlington NJ. All stores are still in their original Agway location.
Sue and Mike Klein are experienced in agriculture and business, both in their own lives and from several generations on both sides of their families. We have seen first-hand and through our collective family histories how business, family life and society changes and we hope we know how to adapt and improve on that reality.
Sue worked for Agway Inc. from 1978 until 1994 when we took over the Burlington Agway store. Mike trucked freight extensively for the Agway Inc. stores in New York, Pennsylvania and New Jersey since the early 1980s and still operates Klein Farms Trucking as an associate corporation, which works with the Agway stores. Mike's family came to the NYC area in the mid 1800s and established vegetable farms in the area that is now Queens, NY. As population increased and moving produce into the city got easier, his grandfather and great uncle moved the farming business out of the city, one to Long Island and one to Bergen County, NJ. In 1968 as congestion, land values and taxes in Bergen County made farming improbable; Mike and his father moved their farm to central New Jersey, outside of Allentown.

Sue's family on her mother's side came from Germany and England in the late 1700s to Chester County PA. Through the years they were dairy farmers, feed mill operators and general store owners. Her father's grandfather came to PA from England as a steel engineer around 1900. He then married into a family who had ties to dairy farms in Delaware and feed mills in Utah. Heavily influenced by his 4-H membership, her father was determined to be a dairy farmer and so the family made the move from ironworks to dairy farming in the late 1930s. As with Mike's family experience in Bergen County NJ, by 1972 population pressure, land value and taxes made expanding a farming operation in Chester County PA difficult. Since Sue's four brothers all wanted to farm, the family moved to Mifflin County in Central PA. Today the four "boys" and their children have a substantial dairy and grain operation there.
It is this background that we bring to running our 5 stores; we strive to be responsible to our customers, employees, families, vendors and civic responsibilities. We buy local ingredients for our mills as much as economically possible, and for all of our stores we attempt to buy "Made in the USA."
While every day and every customer transaction cannot be a homerun we want our stores to be a friendly, convenient and efficient experience for our customer. 90% of our business is composed of "repeat customers" and if you have never done business with us, we invite you to try!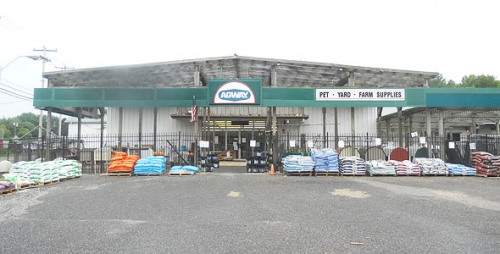 Our Services
Here at Klein Distributors, we believe in offering products that will enrich our customer's lives by helping them care for their commercial animals, pets, homes, yards and gardens. We also provide for their outdoor friends be it birds, deer or squirrels as economically and efficiently as possible.
All our stores carry popular brands such as Legends and Triple Crown Feeds, as well as Feathered Friend bird seed.
We also carry our own proprietary custom blends of feed, grass seed and bird seed.
Mifflin Agway makes and ships to all of our stores a private line of horse, livestock, chicken, sheep and goat feed as well as deer corn. Many customers will recognize our River Racer and Horse Sense brands. The Mifflin Mill can make commercial feed to your requirements and has access to several nutritionists and many lines of minerals and supplements. If you have special needs and can use at least one ton of feed, please let us quote you.
Our private brands of bird seed enjoy a very loyal following. They are Juniata Gold and New Jersey Gold bird seed as well as Chirpmaker. Belleville Agway makes our bird seed, and bags whole corn, cracked corn, scratch and wheat.
Some of our popular custom grass seed mixes are Burlington County Mix, Monmouth County Mix, and Mifflin Juniata Mix.
We focus on large animal feed and nutrition, but we also carry a full line of dog and cat products, as well as rabbit and other small animals, and birds, both tropical and outdoor.
We sell a wide variety of lawn, weed and pest care products, including organics. Salt is one of our biggest year round items, both water softener and de-icers.
If you visit any one of our stores, we hope you will agree that we have much to offer. If you can't find what you are looking for, all you need to do is ask.
Buy 10 bags of our mill made quality feed and get $5.00 off your next purchase. We will keep records of your purchases!
Mix & Match feeds OR buy one at a time OR buy all 10 at once.
Choose from the following
Natures Pride Egg Layer Pellets
Mifflin Layer Mash
Mifflin Sheep Feed
Mifflin Goat
Livestock Chop
Horse Sense
River Racer
Whole Corn
Cracked Corn
Deer Corn with Molasses
Commercial Rabbit Feed